Fed signals patience, Dollar loses pace – Month in Review: April 2021
Macroeconomic Environment Review
April was a rather disappointing month for the US Dollar, with losses against its peers that drove the benchmark US Dollar Index lower by 2.1%. The rise in the US interest rates faded eventually and that led the greenback to the downside, with the likes of the Euro (+2.4%), the Swiss Franc (+3.2%) and the Swedish Korona (+3.1%) capitalizing on the weakness. The true question, from a macroeconomic perspective of course, remains though: is that a change in direction for the Dollar or is it a transient fluctuation? 
In my opinion, the pullback in the Dollar was due to the Fed's forward guidance that managed to convince market participants that they have no plans to change policy any time soon. Despite the stronger economic activity reports coming out of the US, the massive fiscal stimulus package and the higher inflation figures, the US central bank indicated that they do not plan to raise interest rates soon. However, in my view, this will not hold true for much longer and as we move deeper into the summer season, the discussion will pick up again and the Dollar will reap the gains – at least in the medium term. 
In the meantime though, we should look elsewhere for attractive opportunities and the Euro may be one of those places. Granted, the vaccination process has been lagging considerably but that only means that there's more room to the upside when the Union gets its act together and positions itself to reap the gains of increased mobility and economic activity. Sterling, on the other hand, has already received the boost of the economy opening again and now more troubles can be seen on the horizon: Brexit-related issues, the possibility of another Scottish referendum and a current account deficit will weigh down on its outlook. 
Performance Review April 2021
Across the spectrum of our benchmark indices, our performance during April was rather muted, mainly due to an unfavorable start of the month with several "false" signals from our systematic alpha discovery module. As a comparison, AENAON Syncro Currencies returned 0.07% last month, versus a 5.24% return for the US S&P 500 equities index, a 2.21% gain for the Barclay Hedge Fund Index, a 1.27% advance for the Barclay CTA Index, a flat 0.00% return for the Currency Traders Index and a 1.16% uptick for the Systematic Traders Index.
Chart 1: Performance vs. Benchmark Indices – April 2021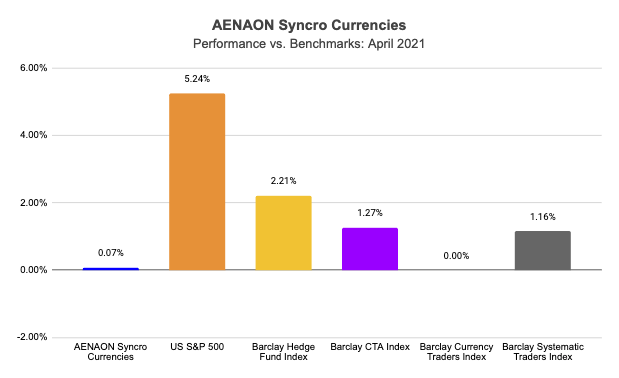 You can always review AENAON Syncro Currencies' updated factsheet at our Fundpeak link, with monthly performance updates and statistics since inception.