Global economic outlook appears brighter going into the new year – Month in Review: December 2021
Macroeconomic Environment Review
The economic activity across the developed world has reaccelerated in the fourth quarter of last year. The Omicron variant is expected to temporarily disrupt but not to derail the recovery path. The decoupling of social and economic mobility from Corona cases should continue, while bottlenecks in the supply chains start to ease.
In our opinion, inflation should decline from the peak levels of last year but remain higher than before the pandemic. Fiscal policy is starting to consolidate as the pandemic fades but debt levels remain high. Central banks are starting to normalize policy, yet at different speeds. A shift to outright restrictive monetary conditions seems unlikely for 2022.
The US Dollar and the FX markets were broadly range-bound in December. Among the major currencies, Sterling performed best, while the Japanese Yen fell the most. Speculative long USD positions stabilized and are not yet overextended. Interest rate differentials are rising but forward hedging remains cheap by past standards. Purchasing Power Parity estimates were mixed in December but, on average, they continue to crawl against the Dollar.
Among its major counterparties, the Japanese Yen is the most undervalued followed by the British Pound and the Euro. That being said, and although the Euro remains supported by favorable balances, the greenback has higher and rising interest rate expectations on its side and a hawkish Fed surprise would further support it.
Monthly Performance Review
During the month of December 2021, AENAON Syncro Strategies generated the following total returns net of fees:
Across the spectrum of our benchmark indices, our strategies' performance during December was mildly positive. As a comparison, the US S&P 500 equities index gained 4.36%, the Barclay Hedge Fund Index posted a 1.20% advance, the Barclay CTA Index added 0.45% while the other benchmark indices can be seen on the chart below.
Chart 1: Monthly Performance vs. Benchmark Indices – December 2021
Charts 2, 3 and 4: Inception to Date Performance vs. Benchmark Indices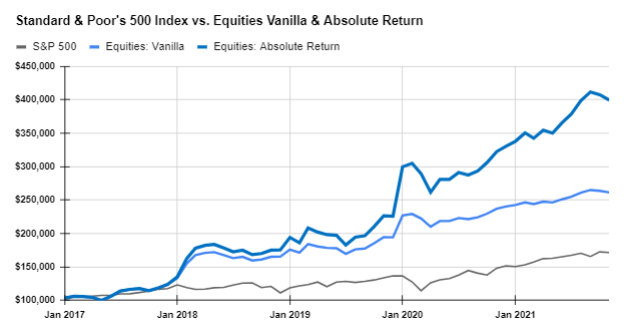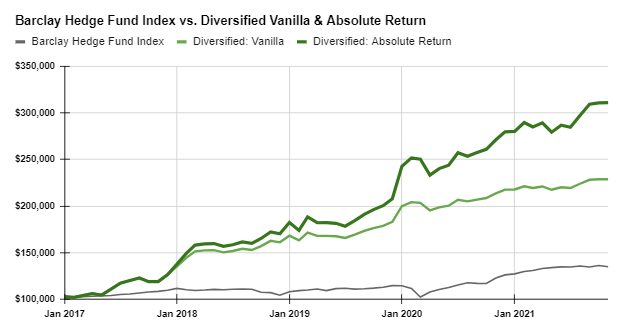 You can always review our updated factsheets at the following Fundpeak links, with monthly performance updates and statistics since inception: